We are joining Rachelle and Natalie's
I'm Thankful Linky Party
...great idea girls!! :) Click on the turkey picture if you are interested in joining the linky party, too!
1. What are you thankful for in your classroom?
Melissa:
That's easy!!! My 24 students who make my job exciting (I am never bored!), challenging, and SOO rewarding. I love my job because I love my students!
Nicole: "Good mornings" and "Good-byes" -Each morning I meet my students in the hallway when the bell rings. They greet me with a polite phrase ("good morning," "have a nice day," "I hope you had a nice weekend"), a hug, and the BIGGEST smile they can make (I do the same)!! I am so excited to meet them each day!
We also have a good-bye routine. At the end of the day I wear this apron:
Each student points to one of the pictures (heart=hug, 5=high five, hand=handshake, smiley face=huge smile), we do the action they chose and say a good-bye phrase such as, "Have a good night," "Have fun with your kids," or "See you in the morning." These special moments with them are what I'm most thankful for.
2. What person are you most thankful for?
Melissa:
My (VERY SMALL!) family! :) We have been through a lot in the past couple of years. I am beyond grateful for them!!!
That's me, my brother, my sister-in-law, and my mommy!!! :) I talk to my mom at least two times every day. On the way to school and on the way home :) We always have lots to say!
My boyfriend, Chris, is also a teacher and he teaches fourth grade. We have been together for over 12 years :) and he is one of those people who wakes up happy every day and whistles when he is doing the dishes. He helps me keeps things in perspective and not worry about the little things.
These are two of my babies :) Nugget and Cinder. Nugget and Cinder are two very spoiled animals. Every two weeks, my mom cooks Nugget a big pot of chicken noodle soup for his dinner. Every morning, I cook him whole wheat waffles, with an apple, banana, chia seeds, and organic yogurt. :) He is the healthiest (and luckiest!) dog on the block! Cinder...we rescued him over a year ago! So, yes he technically is very thankful for us, too!
I'm still not done...one more VIP...
Nicole! :)
Even though Chris and I don't see her and her husband half as much as we would like to - I am still so grateful to have a friend (and blogging buddy!) like her. She never ceases to amaze me with her positive outlook, dedication to her family and career, her kindness and sense of humor. I can always count on her no matter what...whether I have a leaking toliet (sad but true story) or need a serious "I am going to pee in my pants" kind of laugh. :)
Nicole: My mom-she is the best grandma to my kids!! She is so hands-on with them. She takes them to the Y to swim (and races my daughter down the waterslide!!), plays endless games of hockey with my little boy, and lets me vent to her after a busy day. I feel lucky that my kids are able to have such a wonderful person in their life!!
3. What 3 blogs are you most thankful for?
Melissa and Nicole:
What the Teacher Wants
is number one hands down!!! We have emailed, texted, and sent snail mail to each other- borderline stalker, right? When we first started our blog back in March, these girls were the only ones, along with
April
and
Amanda
, who ever showed us the time of day! I still remember how excited we were to have our first official giveaway with Rachelle and Natalie. The only way that we got our blog name out there is by Rachelle and Natalie helping us out! Their kindness truely is greatly appreciated!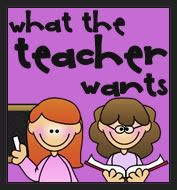 Becky, a super talented fourth grade teacher at our school, also has a super duper cute teaching blog! We love her blog as much as we love her!
Nicole and I also love this crafting/scrapbook/a little bit of everything blog,
Eighteen25.
We always can find inspiration for crafts at home or school from their blog!
4. What guilty pleasure are you most thankful for?
Melissa:
I have lots of
embarrassing
guilty pleasures...where do I begin??
Number one would have to be...COKE- really, sugar is a serious addiction and I think I am an addict.
I know, it doesn't seem like THAT bad of a guily pleasure...right??? The only thing...is that I teach a very in depth lesson on
SUGAR SHOCK
to my students every March, to go along with a nutrition unit. You know, the lesson were we measured how much sugar is in our favorite junk food??
I can't help but feel like a loser when I am teaching my students to say NO to sugar when I am shouting YES!!!
I know Nicole has her own addictions...but I can't help but laugh about this one. Nicole's new year resolution was to kick the soda habit, or at least that is what she told her students. However, I just about died laughing when I saw her pour her soda into a different container and then throw away the soda can (evidence!!) in MY trash can!!!
Nicole:
...That is true!! Now that I have a new batch of students, I feel free to drink my Pepsi without a harch reprimand each day! My other guilty pleasure is definitely cookies. I can justify eating them for breakfast (ie: Lorna Dunes because they have no frosting or chocolate chips). I have a sign on my desk that says, "Cookies Fix Everything" and I honestly believe that!!
5. What are you most thankful for?
Melissa: My health and the health of my family! Short and sweet, but it says it all! I know that I am guilty of taking my health for granted!
Nicole: Happiness! Things are crazy, things are overwhelming, things are always soooo busy! It's easy to let all the stress get to you and (uh oh...)-complain!! I found this poster on Pinterest (brownquilts4me) and I'm proud to say that I choose to be happy each day. Just as negativity can be contagious, so can happiness!
And, THANK YOU, for reading our blog!!! :)
God gave you a gift of 86,400 seconds today. Have you used one to say "thank you?"
~William A. Ward
I read this quote when I found a new blog today,
Believing in Something
, from one of the readers (Sharlee, that's you!) who commented on our blog recently. (We do read each and every one!!!)
Thank you! We appreciate you!